Well, it is 3AM on a Saturday morning, I cannot sleep, and I have to report to the ship for my duty day in a little over 3 hours, which means it is the optimal time for making a blog entry. I only hope that insomnia does not become a habit in Japan, though, as I really
really
want to be well rested for class every morning (especially since I saved for a long time to be able to make this trip).
Earlier this afternoon, I returned from our last at-sea period in a while. My ship will be entering the shipyard for a maintenance availability while I am in Japan (yay for no more pausing of life to dink around off of the coast of Florida every few weeks!). I don't want to talk about Navy stuff, though, so let's move on to a much more pressing issue that has me excited in anticipation -- In only 2 more days I will be departing Norfolk for 32 days to embark on the greatest adventure of my life (to date).
Happily, all of the details have panned out during the past week. Erica
finally
received her passport in the mail (you have no idea how nervous I was getting about that!), I have secured a ride to the airport on Monday afternoon, and all that is left is to pack (and do a little bit of light shopping). Of course, following family tradition, I will end up packing late at night on the eve of my departure.
I have added a few more events to my Tokyo itinerary (we are really making the most out of the weekend in Tokyo!), and it is looking to be a fully planned out weekend. I have never planned out an
entire weekend
before, so I am actually rather proud of myself. On Saturday after (July 28), we are planning on going to the
Ghibli Museum
in the Mitaka ward of West Tokyo since I am such a fan of Studio Ghibli's films (as well as original anime movies in general). In fact, Isao Takahata is my favorite director, and the works of Hayao Miyazaki also hold a special place in my heart.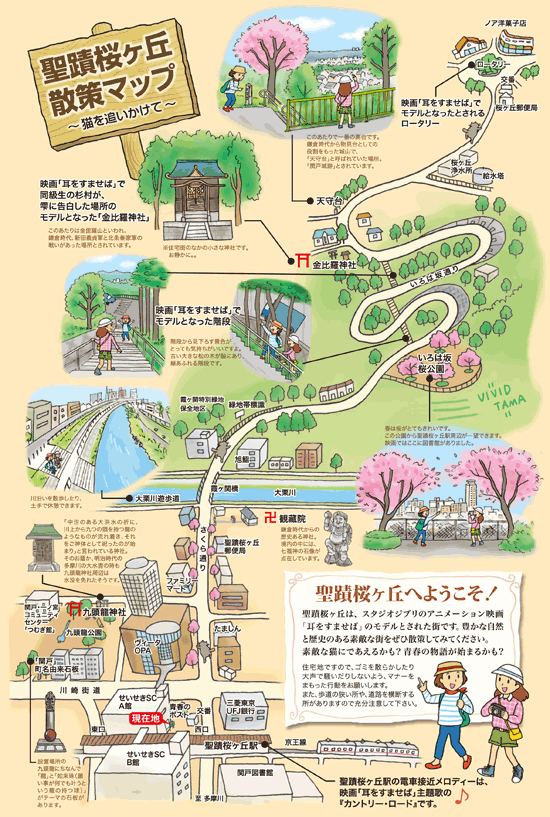 Map for visiting locations in 「耳をすませば」
Afterwards, I want to visit Tama Town, which is a suburban ward in West Tokyo that the anime film 耳をすませば (or
Whisper of the Heart
for you English-speaking folks) is set in. This is another Studio Ghibli film that was directed by Yoshifumi Kondo, and is among one of my favorite films of all time. The film follows a 3rd-year middle school student named Shizuku who loves reading fairy tales, daydreams of adventures, and is talented at writing stories and song lyrics. She is curious about a person named Seiji Amasawa who has been checking out all of the books in the library before her, and begins to wonder who this person is. The story itself is about Shizuku "coming of age" so to speak -- it is about both Shizuku and Seiji discovering who they are and how to achieve their goals in life within the bounds of reality. I highly recommend Whisper of the Heart to anyone. Anyways, the locations in the film are actually real places that you can visit, and I intend to check it out. Besides, I am curious about suburban Tokyo :p
Of course, we have to make it back in time for the
Sumida River Fireworks Festival
that night, as well. I still have no idea what we are doing in Kyoto on the first weekend, but I guess we'll play it by ear. It has also come to my attention that
Comiket
is being held on August 10-12 in Tokyo, so I think I might try to return for at least a day to take Erica to that. She is a brilliant cosplayer who is extremely skilled at making her own costumes, so I think that she would love to attend a manga convention in Tokyo.
Well, that is all for today. もうすぐ行く・・・待てないんですよ!読めば、書いて続く約束です。じゃまたねぇ。